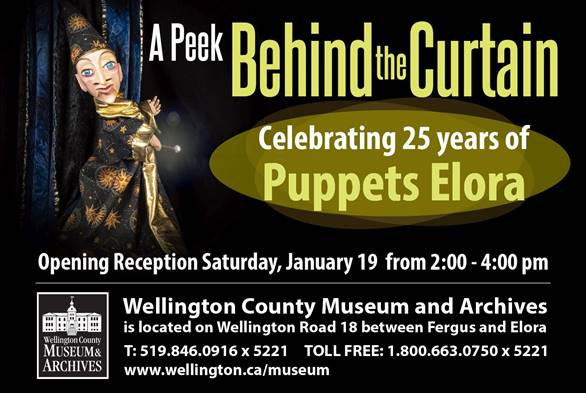 Who Are We?
Since 1995, Puppets Elora has used traditional puppetry to bring affordable live theatre to children in Guelph, Waterloo, Orangeville, Wellington County, and beyond. We base our dynamic and humorous plays on folk- and fairy tales from around the world. Members design and build beautifully sculpted hand puppets, props and scenery. The skilled volunteers have backgrounds in education, community theatre, and the arts. (See: Our Philosophy)
We have set up our traditional "Punch and Judy" style travelling stage at schools, multicultural festivals, libraries, museums, churches, retirement communities and in a barn (Donkey sanctuary)! The stage incorporates lights and amplification that can be used when needed to support our completely live performances.
New since 2014 are our interactive shows "Stone Soup", "That's Not My Mommy" (English or French) and "No Puppets No Problem". In March 2018, we will premiere "Wish Fish", our version of The Fisherman and his Wife. We have cordless microphones for outdoor venues.
Puppeteers: Susan Brideau (2014), Gail Brown (2014), Annerose Schmidt (1995) (See: Puppeteer Profiles), Peter Scott (2009), Cassie Brideau (2014) on sound, lights and parades during school breaks
What Do We Offer?
Live interactive shows with the puppeteers visible (See: Shows)
Sock puppet making workshops for ages 6 and up (See: Workshops)
Puppet manipulation workshop with animal style and people style puppets for children or educators (See: Workshops)
Puppets Elora owns and operates giant puppets for parades and displays (See: Gallery)
Currently Unavailable: Live puppet shows in traditional style Punch and Judy booth theatre (See: Shows)
An opportunity to join us:
We are looking to expand our team to prepare for Puppets Elora at Wellington County Museum (January- March 2019). (See: Join Us)
Upcoming Events:
Jan 19th – Mar 31st, 2019 – A Peek Behind the Curtain. (Click here for more information)
Please confirm with bookings@puppetselora.ca or the venue for updates (See: Contact Us)
Our Partners: