Workshops: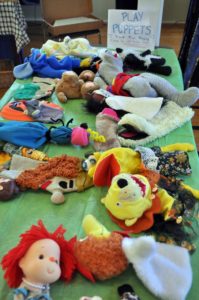 – Learn to manipulate hand puppets and give it an individual voice (we have two class sets)
– Learn to express emotion with sock puppets (we have two class sets)
– Make and take a puppet (we supply materials)
Fee: $5 per child, minimum $100
Duration: 40 minutes – 1 hour
Workshops for Educators:
Puppetry is not as easy as it looks, we teach about timing, big and small movements, voice characterization, detailed hand movement, placement and scene preparation.
Learn to manipulate and find an individual voice for hand and sock puppets to express emotions.
Find out how to choose a puppet that expresses easily and how to alter to customize for your own comfort.
We adapt our method of training to fit your needs.
Duration and cost: Please inquire.